Faculty members are invited to recommend for purchase DVD's, books (including children's books), reference books, journal issues and e-books!
Award Winning Books in the Brimmer Collection
2014 Newbery and Caldecott winners
Flora and Ulysses
Call Number: FIC DIC
ISBN: 076366040X
Publication Date: 2013-09-24
Rescuing a squirrel after an accident involving a vacuum cleaner, comic-reading cynic Flora Belle Buckman is astonished when the squirrel, Ulysses, demonstrates astonishing powers of strength and flight after being revived.
Locomotive
Call Number: 385.0973 FLO
ISBN: 9781416994152
Publication Date: 2013-09-03
Learn what it was like to travel on the transcontinental railroad in the 1860s. With encyclopedic enthusiasm, Floca visually documents the trip, vignettes illustrating the train's equipment as well as such must-know details as toilet and sleeping conditions. Full- and double-page spreads take advantage of the book's unusually large trim for breathtaking long shots of the American landscape and thrilling perspectives of the muscular engine itself. The nameless girl and boy provide touchstones for readers throughout, dubiously eyeing an unidentifiable dinner, juddering across a trestle, staring out with wide-eyed wonder. Unjustly undersung as a writer, Floca soars with his free-verse narrative, exploiting alliteration, assonance and internal rhyme to reinforce the rhythms of the journey. Frequent variations in font and type ("HUFF HUFF HUFF!" is spelled out in ornate, antique letters) further boost the excitement. Front endpapers provide detail on the building of the transcontinental railroad; back endpapers show the steam engine in cross section, explaining exactly how coal and water made it go. Nothing short of spectacular, just like the journey it describes.
Additions to the Brimmer Collection
Please take a moment to give us some feedback about your experience with our web pages and the resources posted here! If you think we fell short, please leave a comment so that we can improve. Thanks!
New Acquisitions - Featured Titles - May 2014
9/11/11
Call Number: PS356 .M37 N55 2010
ISBN: 9781456310158
Publication Date: 2010-10-01
Using research to improve instruction
Call Number: QA1 .N3 2014
Publication Date: 2014
Part I. Change --
1. Transitioning to common mathematics standards: computational fluency in the K-5 curriculum
2. Implementing a new national curriculum: a Japanese public school's two-year lesson-study project
3. Learning trajectories for interpreting the K-8 Common Core Standards with a middle-grades statistics example
4. Allowing students to take the lead in mathematical investigations
5. The effect of instruction on developing autonomous learners in a college statistics class
6. Flipped classrooms and task engagement: beyond portable lectures
Part II. Problem solving --
7. Creating a classroom culture that encourages students to persist on cognitively demanding tasks
8. Developing strategic competence by teaching using the Common Core mathematical practices
9. Increasing access to mathematics through locally relevant curriculum
10. Using rich tasks to promote discourse
Part III. Reasoning, explaining, and discourse --
11. Supporting writing with the student mathematician discourse framework
12. Situating expansions of students' explanations in discourse contexts
13. Multimodal communication: promoting and revealing students' mathematical thinking
14. Teacher discourse moves: supporting productive and powerful discourse
15. Promoting mathematical reasoning through critiquing student work
Part IV. Seeing structure and generalizing --
16. Using classroom evidence to inform and improve teaching
17. Exploring functions in elementary school: leveraging the representational context
18. Research-based modifications of elementary school tasks for use in teacher preparation
19. Increasing proficiency levels of mathematical practicess
Part V. Assessment for teaching and learning
20. Mathematical practices: small changes in assessments = big benefits
21. Student mathematicians developed through formative assessment cycles
22. Using research to inform formative assessment techniques
23. Making mathematical errors springboards for learning
24. Embedded field experiences as professional apprenticeships.
New Foreign Languauge Texts in the Brimmer Collection
Atando Cabos (Fourth Edition)
Call Number: FOR.LANG.SPANISH PH INTER. T.E. 2012
ISBN: 9780205770168
Annotated Instructor's Edition.
Suena (Second Edition)
Call Number: FOR.LANG. SPANISH VISTA 2011
ISBN: 9781605760896
Curso intermedio breve. Includes Teacher Edition, Activities Manual, Answer Key.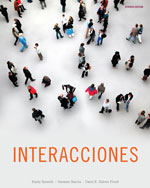 Interacciones (Seventh Edition)
Call Number: FOR. LANG. SPANISH HEINLE 2013
Annotated Instructor's Edition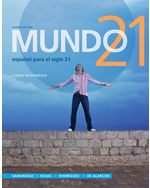 Mundo 21 (Fourth Edition)
Call Number: FOR. LANG. SPAN. HEINLE INTER. T.E. 2012
Annotated Instructor's Edition.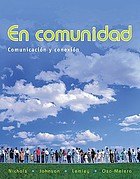 En Comunidad
Call Number: FOR. LANG. SPANISH MCG-H T.E. 2009
ISBN: 9780073326207
Instructor's Edition.
Nuestras Culturas. Language and Culture: An Intermediate Course in Spanish.
Call Number: FOR. LANG. SPAN. HMH INTER. EXT 2009
ISBN: 9780618574599
Language and Culture: An Intermediate Course in Spanish.
Así lo Veo
Call Number: FOR. LANG. SPANISH MCG-H TEXT 2011
ISBN: 9780073534404
With Asi lo veo, an intermediate Spanish program, this title documents how six Spanish speakers view provocative themes. It helps you to: increase students' ability to comprehend spoken Spanish; express their ideas and opinions; and, analyze cultural perspectives while challenging fixed beliefs and cultural stereotypes.